The next time you're looking at a building or its architectural intricacies, pay attention, because you might see 3D printing applications all around you.
3D Systems' Quickparts UK recently helped break new ground in architectural 3D printing with the development of cladding nodes, termed "shrouds," for a new London office building. The 6 Bevis Marks building, constructed by Skanska, features a top-floor terrace with steel columns that branch out to support an ETFE roof. Architects required eight unique, organic covers to conceal the junctions where these supports come together, and they turned to 3D Systems' Selective Laser Sintering (SLS) to do it.
Although engineers originally had reservations about using 3D-printed parts, 3D Systems' SLS machines were perfect for the job because they create robust, highly detailed parts in far less time than traditional manufacturing. Originally, the designers envisioned using welded steel, but such pieces didn't pass the aesthetic test for architect Fletcher Priest. Not to mention that creating each one with more traditional methods would prove to be expensive and difficult. So Quickparts used SLS—which is capable of producing complex geometries that other manufacturing methods simply can't duplicate—to take care of the job. And, as it turned out, the pieces passed accelerated durability tests for rain, sunlight and heat, making the engineers happy, too.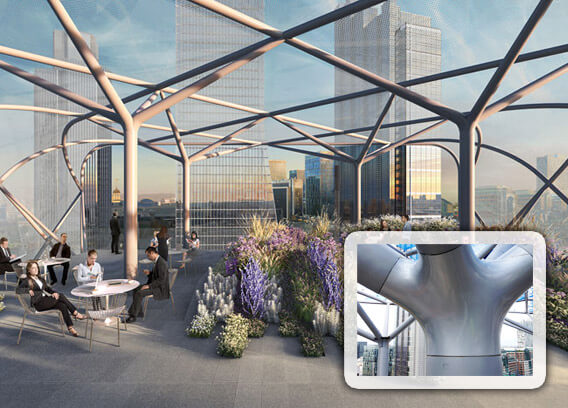 There's more to read about this case study in 3D-printed architecture. Read the article from Construction Manager magazine.