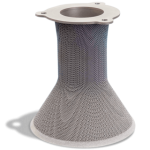 Direct Metal Laser Sintering (DMLS) is an additive layer manufacturing process using fine powders to directly build metal components. CRDM are the UK's longest running DMLS facility, manufacturing parts since 1999.
Parts are built in recognised engineering metals and can be machined, welded, tapped, polished, plated and many other common post process operations.
Conformally cooled tooling inserts for plastic moulding and die casting can also be manufactured using this process to improve cycle times and moulded part quality.
 Advantages of the Direct Metal Laser Sintering (DMLS) process…
Freedom of design, such as complex internal features & organic forms
Direct Metal Laser Sintering offers part to part customisation – no tooling
Thin wall and variable thickness components
Fully dense, high performance materials
Ideal for one-off prototypes and low volume production
Very efficient material processing – only part mass of material is used
Height of build dictates price – more components per build reduces unit cost
Some considerations with Direct Metal Laser Sintering…
Minimum wall thickness 0.2mm*
Typical tolerance ±0.05mm*
Maximum build size 250 x 250 x 190mm
Typical leadtimes 1 – 2 weeks
Typical surface finish 4.5Ra before any machining or polishing
For simple, uncomplicated parts, machining is often a cheaper option
* Subject to geometry and build orientation.
Please download CRDM Tolerance Standards PDF for Direct Metal Laser Sintering tolerances.
Click here for a summary sheet of DMLS metals
Materials
Maraging Steel (MS1)
Maraging Steel (MS1) is a pre-alloyed ultra high strength steel in fine powder form. Its composition corresponds to US classification 18% Ni Maraging 300, European 1.2709 and German 3NiCoMoTi 18-9-5.
Stainless Steel 316L
Stainless Steel 316L has a natural colour, good corrosion resistance, non hardenable material suitable for manufacturing direct parts.
Cobalt Chrome MP1
The chemistry of EOS Cobalt Chrome MP1 conforms to the composition UNS R31538 of high carbon CoCrMo alloy. It is nickel-free (< 0.1 % nickel content), sterilisable and suitable for biomedical applications.
Inconel 718 / 2.4668
Heat and corrosion resistance nickel alloy with good tensile and fatigue properties at temperatures up to 650⁰C. Mechanical properties can be increased with age-hardening (AMS 5662 / 5664). Commonly used for applications in motorsport, aerospace, and Oil and Gas industries.
Below is an example of a DMLS component that has been gold plated.